Streetball Report Accra, Ghana
No Place Like Home
by Lahh Woods
Home games are always the best of times.

Who wants to play any away games? Home games are the best…You got the home crowd…You got the home uni's, home refs…You know every crack and bump on the court…Without a doubt …There's no place like home.

I left home…to go home.

Ghana, West Africa.
[Traffic Downtown Accra] [Kwame Nkrumah Memorial]
On this particular weekday, I walked the busy streets of Accra, as directed, about 2-3 miles or so from where I was staying to catch the tro-tro [dollar van] to the university.

"Legon! Legon! Legon!", I heard the collector scream as the tro-tro came to a quick halt…I beat part of the crowd and squeeze into the back row.

Not a very long ride from the village road, near La Paz…Trees, a patch of roadside vendors, a remote highway road…When I finally made it to the University of Ghana, I was pleasantly surprised to see a sleepy, laid back, tree lined, campus and the courts full of ballas…Ballplayers of every level & gender shared the courts and they played enthusiastically. I observed the flow & tone of the game on court #3.
I inquired confidently, "Yo my man! Who got next?!"…I was picked without any debate, nor the cold shoulder…Being from the NYC I thought I might have to "fight" for a spot, being the new kid on the block.

That didn't happen.

True Democracy.

I had to change into my gear quickly because they play game 5 in Ghana.

That's right five buckets and they move on to the next game.

Great idea…personally I like the idea of game 3…That's right, '"Play some defense!!"

On the court, a mid-sized chubby brother, 5'10" with a Jordan "away" jersey on is talking a spot of trash, in a bit of a British accent.

He's got his hands full trying to guard a 6'8" player with a deadly, slow motion, set shot from 3- point range…Same spot for the most part and he's stuck out there on defense too.

Why is a 6'8" player shooting from deep 3 point range? Why isn't he under the basket, getting buckets, blocking shots, dunking and rebounding? Akwaabaa! Welcome to Ghana.

Things are a little different here.

This is Streetball. This is Pick-Up.

Ghanaian streetball players practice what they may have seen on the internet or tv [or from other marginal players] and practice that popular move or that specific part of their game until they master it.

Great idea.

However, they may be at college or semi-pro level at a spot on the three point arc and may be elementary school deficient with basic lay-ups or ball-handling.

It's the same situation in the states, but inconsistencies in players here are on a whole different level.
So at any given moment you are likely to see almost anything [very good or

very bad] as the game progresses.

With that said, there are also several ballplayers here that could get it on with any group of ballplayers from Accra to LA [Lenox Avenue]…They just aren't in abundance or they haven't had the exposure to showcase their talents and abilities.

Some of these elite players won't even get on the court with the less skilled ballas…They wait until the the sun goes down, and the crowd leaves, then they'll come out and shoot jumpers until the lights go out. [Madd Shout to the 6'5" brother with the full length African buba (long dashiki) draining jumpers with the ipod on his ears.] I finally get on the court and the game is moving a hell of a lot faster than it looks from the sidelines.

We are un-ceremoniously ran off the court in no time.

Mr. Set shot is on a roll and he has help from a fast guard with pretty good skills and a female who's always open on the right baseline, [She's from Wisconsin of all places].

I regroup on the sideline, and realize that there are no children in this on-campus park… I inquire about other places where people play pick-up.

I am told about the Aviation Recreation Center, and some other out of the way location called the Atomic Courts, some distance away.

I hope it is far away if it's called ATOMIC.

I am also told by some of the students that there is a Ghanaian National Team with "Real Players" and that they work-out somewhere near the airport. I hope to find them either on this trip or on another one in the near future. I'm sure they are excellent players, that are well coached...Perhaps, I can return to Ghana with "Five Ballas" from Home and we can get it on in front of a Home crowd.
[Below left- My Brothers Gemegah and Doamekrah]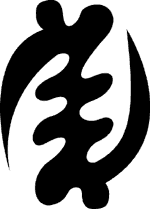 I like the vibe here at the University of Ghana, Legon…I know that football is king here and I'm in Ghana for about 2 weeks…Maybe someone can teach me how to play goalie.

Well at least I have one place not too far from my lay-up to get a decent run.

There are other places to ball, I just haven't found them yet.
[Photo Right- My Brothers, Azuma, Bernard, Wonders, LW, Kwabena & E TV]
Finally, after no less than four or five games, I finally get my first "W" in Ghana. Felt good…actually we got five or six W's.

The better players have migrated to court #1 and the guys who are left here…well?...Let's just say they need more experience.

On this court, we got low tops, flip-flops, running shoes, and may- pops.

Here at home, people actually encourage you to shoot the ball…This ain't Philly…Didn't hear much complaining about anything, calls, trash talk, losses or otherwise.

Brothers and sisters are quite polite in Ghana anyway, on the court or off.

I made a few friends.

Had a great work-out…I am tired, but the knees are not aching at all.

I brainstorm, "Maybe I can have the One on One tournament right here"…I break out the score sheets and start signing people up on the spot.

We set the date for Saturday AM…Can't wait to see how the "1 on 1 Ghana Style" goes in a few days.
As the sun sets, I leaned back on the bench by the fence and kick off my kicks.

I wonder how late the tro-tros run back to the village road.

I relax, lean back and watch the lights come on over the basketball courts.

All the courts are taken.

I'm reminded of those sunny days and hot nights in the Bronx projects, when we played until midnight...when the lights went off.

Sometimes we played by moonlight.

I look up and there is a bright full moon above me, with shining stars I can still touch...like backboards. I look around the
campus, peaceful, calm…Couples walk by slowly, just like in Harlem. However, most not even holding hands.

5, 124 miles really isn't that far away, in the grand scheme of things. I take a deep breath and thank God for the Blessing to be here…at Home… and a long way from Home…at the same time. Like I said, "Home games are always the best of times."
Madd, Madd Shout to my Brothers Eben Tony and Siedfriege Wonders for showing "Old Man Baba Lahh Kwaku" around Accra…Medasse Pa…Also my partners Phillip, Joy, Yussif, Slo-Mo [the Rapper], Bernard, Aziz, Kwaku, Kojo, Azumah, Mohammed, Jo-Jo, David and Marlene Wallace, Eric…and my Big/Little Sister Vida Asem …Blessings, Love & Peace to you all.